Lightweight Mobility Scooters: Why Invest in One?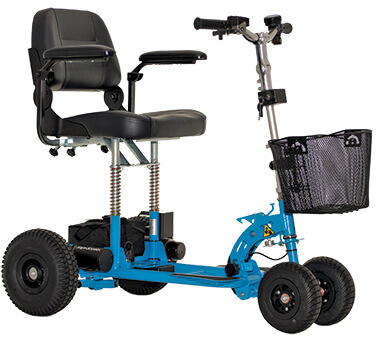 There are many benefits to having a lightweight mobility scooter. They require far less effort than manual wheelchairs, allowing you to cover a greater distance without any assistance They can be easily folded or dismantled to fit in a car, on public transport, or to take on holiday.
A lightweight, portable and robust mobility scooter such as a SupaScoota or Di Blasi, can help if you have any mobility restrictions. A mobility scooter can give you the freedom to get outdoors and explore.
Simple and Portable
Lightweight mobility scooters are very easy to operate, even if you have never used one before. They usually have 1 or 2 speed settings and can travel up to 4mph. The main benefit of a lightweight mobility scooter is they are simple to fold down or dismantle. This makes them easy to put in the car boot, take on public transport, or store under the stairs.
Crowded Spaces
Worried about navigating the busy crowds? Lightweight mobility scooters have been designed to blend in with the hustle and bustle of crowded places.
The majority of shopping centres, attractions, and public spaces are now equipped and ready for disabled access. Most lightweight scooters have a tight turning circle, meaning that you'll be able to navigate tight corners and crowded spaces with little effort.
All Terrains
At Lightweight Scooters, we stock a whole range of lightweight mobility scooters to suit the different needs and requirements of our customers. Some of our mobility scooters have large rugged wheels that are better suited for uneven terrain, some have more powerful motors that are designed to help with inclines and some are sleeker with small turning circles to give the best performance indoors.
Whether you live in a busy town, the peaceful countryside, or by the sea you will be able to find the ideal lightweight mobility scooter for you.
Battery Type
When choosing a mobility scooter, it's important to decide whether you want a Lithium Ion or Lead Acid (SLA) battery.
Lithium Ion has undergone rigorous testing and is considered safe for travel by the International Air Transport Association (IATA).
SLA batteries are heavier in weight, but are the cheaper alternative. This option is still suitable for shorter journeys like visiting the doctor or going shopping.
An excellent tip is to buy a spare battery for your lightweight mobility scooter. This will allow you to extend your range without re-charging your battery.
Whatever your reason for buying a lightweight mobility scooter, always remember that certain types will suit you more than others (this depends on many factors, including the users body weight and size). That's why it is very important to seek out a reputable showroom or arrange a home visit, where a friendly professional can guide you every step of the way.
To contact us at Lightweight Scooters, give us a call on 0333 414 1881 or complete the contact us form.
---