What does a home demonstration involve?
This blog is going to give you an overview of what to expect from a home demonstration to see one of our mobility scooters. At Lightweight Scooters, we have years of experience running home demonstrations. This experience means we know what makes our customers feel comfortable.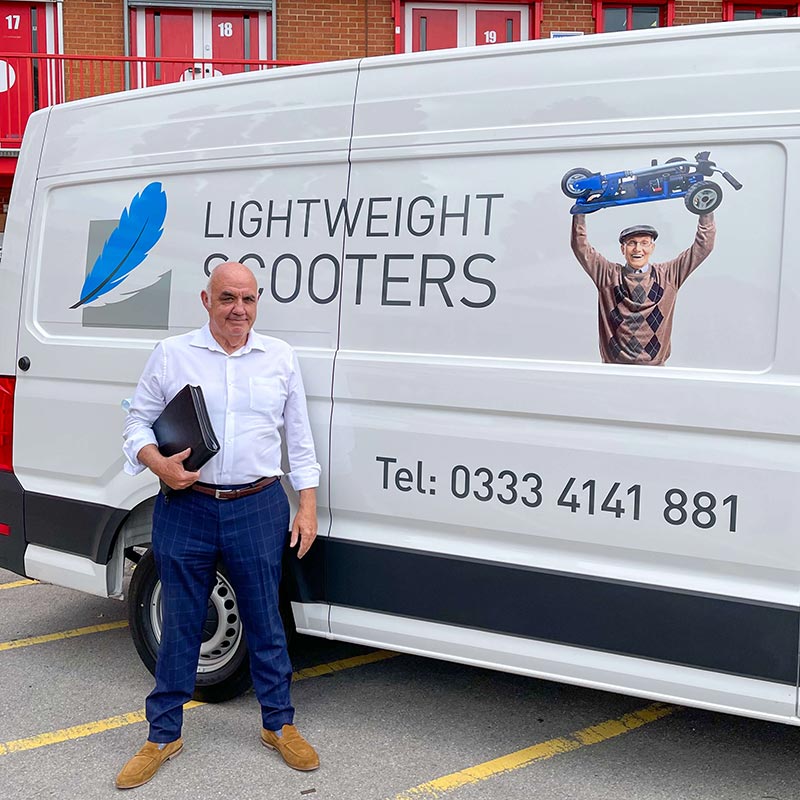 Once you have got in touch with us by phone, email, or the form on our website we will contact you. We will check that a mobility scooter home demonstration is what you are looking for. Then, we will confirm your name and contact details before we pass them along to one of our home demonstration consultants.
Get in touch with us now and book your free, no-obligation home demonstration to see a lightweight mobility scooter in the comfort of your own home.
Next, you will be contacted by one of our home demonstration consultants. They will agree on a date and location for the home demonstration. They will also ask broadly what kind of mobility scooter you are looking for.
At the home demonstration, the main role of the consultant will be to listen to your needs. They will ask you where and when you imagine using a mobility scooter. Then they will carefully listen to your answers so that they can make an appropriate recommendation.
Once the consultant has enough information, they will recommend a scooter or a couple of scooters for you to try out. The consultant will go and get these from their van and bring them to you for you to try out straight away.
The consultant will suggest that you try out the scooter in the comfort of your home and practice using it like you would if it was yours. You could take it out for a drive around your local area, practice getting it in and out of your car, or show it to your friends and family to get their opinion. Whatever you need, our friendly consultants are happy to help.

At the end of the home demonstration, you have some options. Remember, this is not a sales visit, and you are under no obligation to buy any of the mobility scooters you tried. If you would like to talk to your friends or family about the mobility scooters you have seen, then that is fine.
If you have found a mobility scooter that fits all your needs and is suitable for you then great! The consultant will perform an assessment with you. This will identify the mobility scooter you have chosen and confirm that it fits your needs. It will also identify if any adjustments need to be made to the scooter. For example, if you need the controls to be altered.
In most cases, if you have decided to buy a mobility scooter, the consultant can supply you with a brand-new scooter straight away from their van. This is a bespoke service we offer, some of our competitors would make you wait up to 6 weeks for delivery.
This has been an overview of what our home demonstrations are like at Lightweight Scooters. If you are interested in a new mobility scooter, then give us a call: 0333 414 1881, or fill in this form to book your free, no-obligation home demonstration.
---