The Lightest Mobility Scooters - from travel to folding options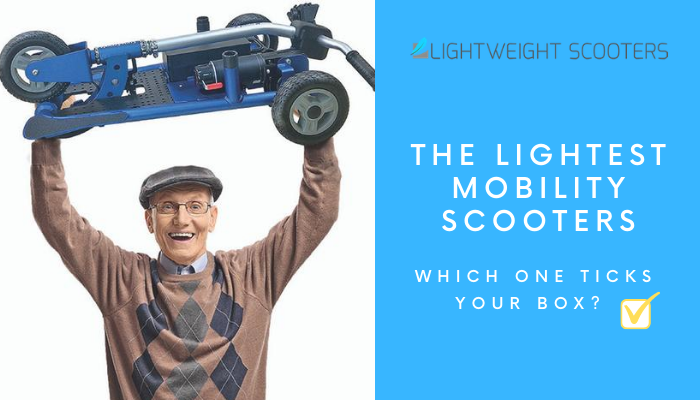 There will always be a huge demand for lightweight mobility scooters. And guess what? The technology is getting better and better, so expect to see lots of new and exciting travel scooters in the near future.
When it comes to travelling with a disability, lightweight mobility scooters are the top choice. After all, with all that luggage, you need something that fits neatly in a car boot space.
We've spent years carefully sourcing and testing the lightest mobility scooters which are suitable for use in the local area, shopping trips, and breaks away with loved ones.
All of our travel mobility scooters have a speed of up to 4mph, the road class (8mph) ones are extremely difficult to transport due to the bulky and heavy components. To transport these, you'll need a large car with plenty of space.
The Lightest Travel Mobility Scooters
Travel mobility scooters can be thought of as similar to the folding mobility scooters in the category below. The main difference (yes, you've guessed it) is that they don't fold.
On the other hand, the main benefit is that these can be broken down piece-by-piece. That way, you have the option to take off parts until the scooter is light enough to lift into the car boot.
For customer A it could be that taking the seat and battery off is enough, but customer B may need to take off the seat, battery, plus take the motor end off.
We've taken the opportunity to split the travel mobility scooters into two sections.
Ultra-light Travel Scooters
The Light Travel Mobility Scooters
This is because we have some of the lightest portable mobility scooters in the world which are unique us.
Ultra-Light Travel Mobility Scooters
MicroLite Portable Mobility Scooter
Product Weight = 17.9 kgs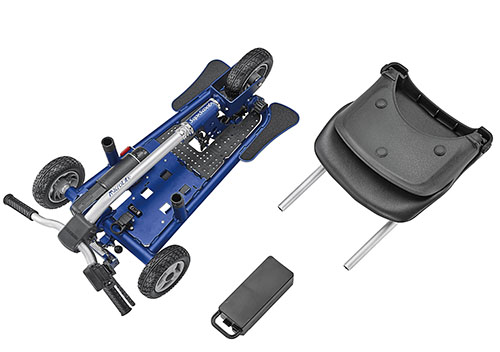 The MicroLite is our lightest travel scooter with the weight of 17.9 kgs (39 lbs) including battery and seat. Simply lift off the seat, fold the tiller down and place in your boot - much like a bag of shopping.
The Panasonic lithium battery is cleared for air travel, so you can take the MicroLite almost anywhere.
SupaLite Portable Mobility Scooter
Product Weight = 20.4 kgs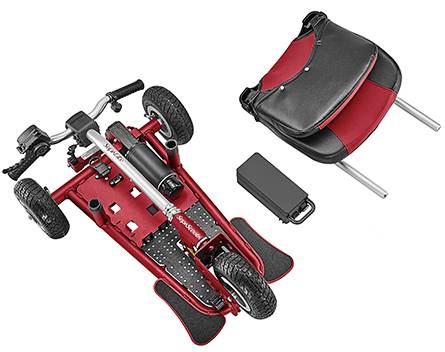 The SupaLite fits into our 'Ultra-light' classification. You get a little more than with the MicroLite, including a 260W motor and a wheelbase of 97cm.
For that though, you'll need to sacrifice some of its lightness. An amazing portable scooter that would suit the taller person.
SupaLite 4 Travel Mobility Scooter
Product Weight = 21.1 kgs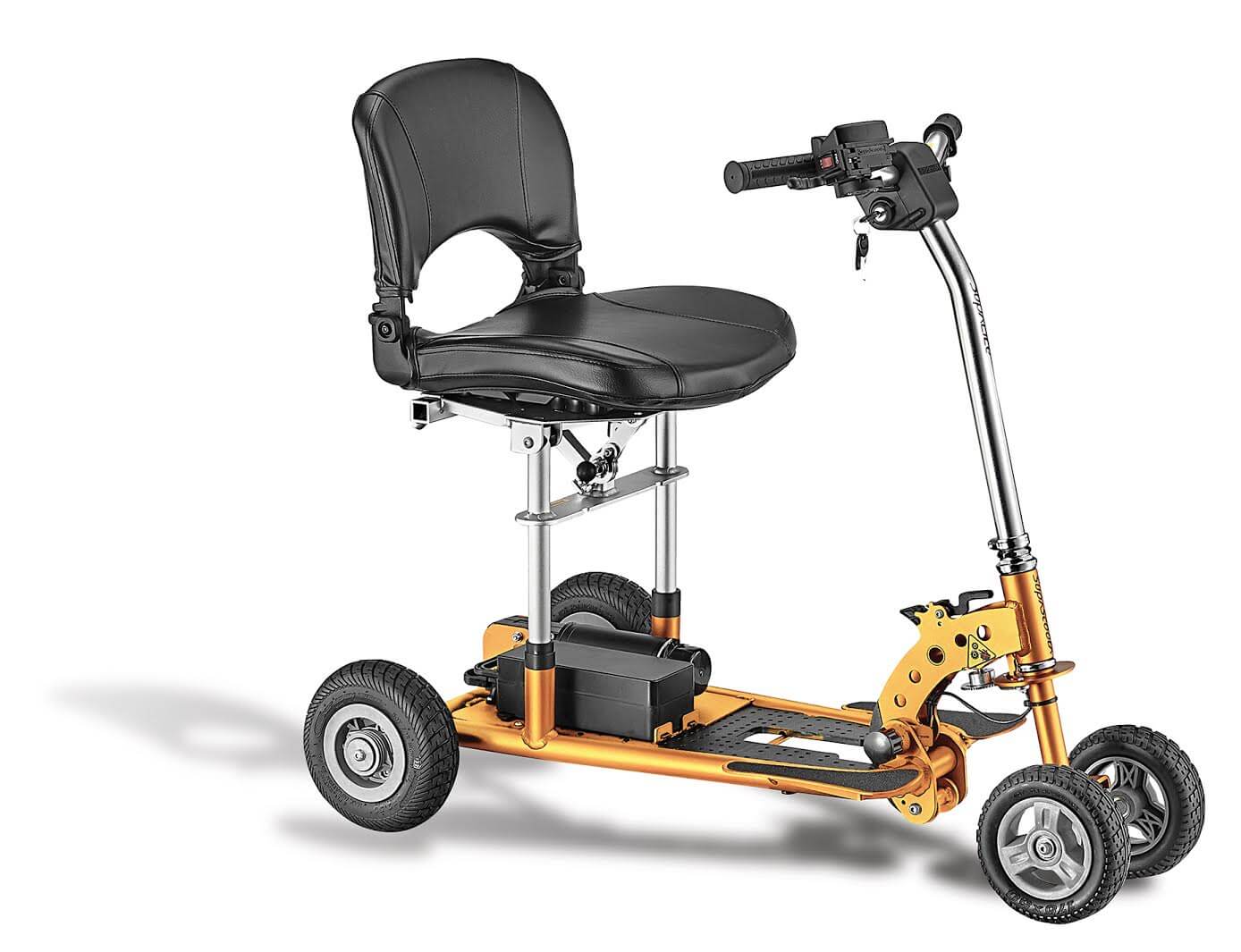 Perhaps you like a little more stability from your portable mobility scooter. The new (2020) SupaLite 4 weighs just 21.4 kgs (46 lbs) but can be brought down to 14.4 kg once the battery and seat are removed. This portable mobility scooter is the same as the SupaLite but with four wheels.
Light Travel Mobility Scooters
SupaScoota Sprint
Product Weight without battery = 32.3 kg (64 lbs)
Take the SupaScoota Sprint to the shops and enjoy the local area. It has enough legroom and a suspension seat, so you will be nice and comfortable. The 2 x 150-watt motors are a really nice addition too.
SupaScoota Sport
Product Weight without battery = 32.3 kg (64 lbs)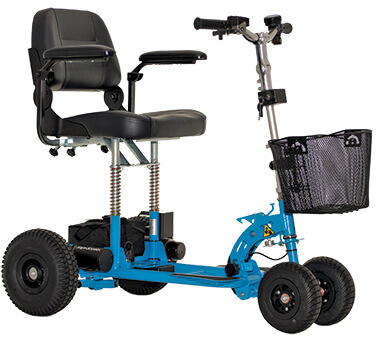 This is the portable mobility scooter for those who love being outside. A dual motor makes it comfortable to drive whether you're using it off-pavement or on steeper inclines. Enjoy a travel distance of up to 12 miles as well as premium grade safety features.
SupaScoota Sport XL
Product Weight without battery = 34.8 kg (77 lbs)
With all the features of the SupaScoota Sport, the Sport XL model boasts a longer wheelbase for those who want a bit more legroom. There are also 2 x 180W motors for extra power.
SupaScoota Spartan
Product weight without battery = 36.85 kg (81 lbs)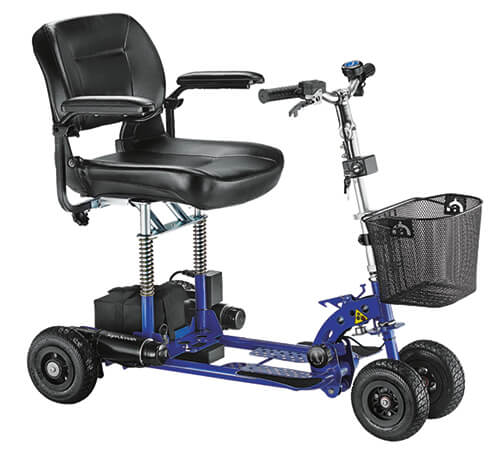 The Spartan really is a beast! It can accommodate a user weight of up to 32 stone (200 kg) while still retaining comfortable features such as a padded suspension seat and plenty of legroom.
Lightweight Folding Mobility Scooters
For sheer simplicity, you cannot go wrong with a lightweight folding mobility scooter. These will fold down in one unit, so you won't need to worry about unfastening bolts and clips. As these mobility scooters are in one piece, this type will naturally be heavier.
Here are some of our best lightweight folding mobility scooters that are suitable to take on your next adventure.
i3 Mobility Scooter
Product Weight = 24 kg (53 lbs)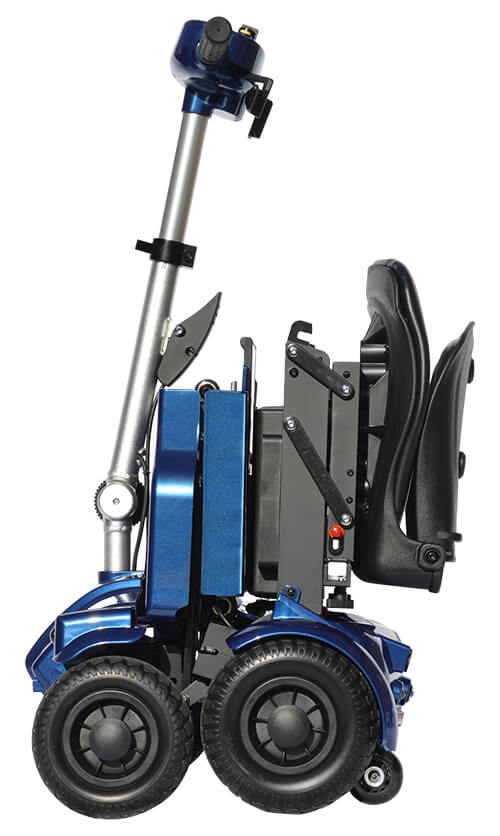 Since launching the i3 folding mobility scooter in 2018, it has helped many of our customers become more independent and lead an active lifestyle.
The great thing about this scooter is that it can hold two batteries, both giving a range of up to 7 miles which combined gives you a total of up to 14 miles. Change between batteries with the flick of a switch – that's simplicity at its best.
Di Blasi R30
Product Weight = 26.9 kg (59.3 lbs)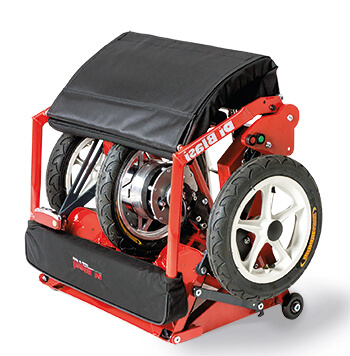 This lightweight folding mobility scooter probably has the biggest 'wow-factor. The sleek Italian design is something special and it can be automatically opened and closed by one quick press of a button.
Once the Di Blasi R30 has been folded, it can either be pulled along using the integrated handle or placed neatly in your car boot space.
The Atto Folding Mobility Scooter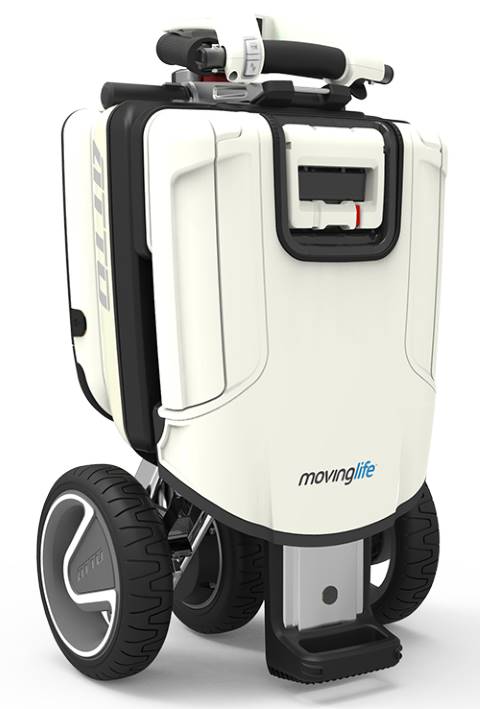 The ATTO Folding Scooter looks slick with its all-white, glossy paint job. Again, like the Di Blasi R30, it is still very light for what you get and has a smooth folding mechanism. With a USB charging port and a range of up 10 miles, this a great little scooter.
Pride Quest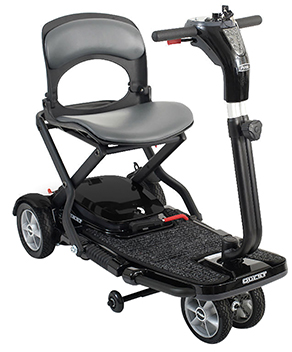 Pride Quest is light (at just 25.6 kg) and can be folded down quickly. This isn't necessarily built for comfort, but it is a very accomplished choice.
Whether you opt for a travel or folding mobility scooter you can be sure we have a range of the most lightweight on the market.
For more information please call 0333 414 1881 where we can bring a selection of lightweight scooters to your home. That way, you can try a selection in a place you feel most comfortable.
---