Folding Mobility Scooters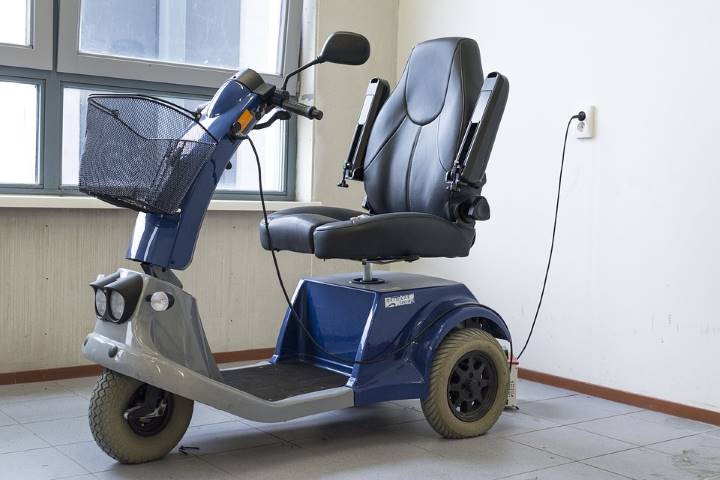 Mobility scooters are a wonderful thing! It's said that in 1968, Allan R. Thieme invented the first power-operated scooter called The Amigo in his garage for a friend who had multiple sclerosis, and would have looked much the same as the image above.
Since that time, they have provided a way for people who have mobility issues – whether it's for rehabilitation or longer term – to get around independently. As technology has progressed the mobility scooters have been designed to be smaller, lightweight, and more practical.
All the scooters on this website have been handpicked for their lightweight qualities but you may have come across a few in our selection which are folding mobility scooters.
If you're wondering whether a folding mobility scooter would benefit your lifestyle then read on my friends.
Why purchase a folding mobility scooter?
One of the main reasons that you might choose a folding mobility scooter is the amazing portability. Folding in one unit means that you can take it on holiday with you. More and more airlines are willing to accept folding portable scooters.
They also take up much less space. This means that you can store it away in the car boot alongside your shopping or in a small space like a cupboard under the stairs when it's not being used.
As we mentioned earlier, in most cases these scooters tend to be lightweight so are easier to lift. But don't worry, even when they're folded most have a handle, so you can pull the scooter along like a suitcase if you need to.
Due to their smaller footprint, these models are more manoeuvrable. This manoeuvrability makes them fantastic to use in crowded places. Likewise, if you live somewhere with limited space a folding mobility scooter would be a useful addition.
What folding Mobility Scooters are available?
At lightweight scooters, we have handpicked the best folding mobility scooters. That's right, the hard work has already been done. The selection below has been chosen to suit a wide range of budgets and mobility requirements.
Di Blasi R30
Coming fresh from the beautiful island of Sicily, the Di Blasi R30 has a vibrant design. The nice thing about this scooter is that it folds automatically in seconds. As one unit, you won't need to unfasten any parts. It's perfect to be taken on aeroplanes, trains, coaches, or cruise ships. The lithium battery is extremely lightweight and promotes faster charging. And if you don't fancy lifting it? Well, there's an integrated handle which will allow you to pull it along like a suitcase.
Atto
This folding mobility scooter has an elegant feel and high-tech design features. It starts off as a suitcase with wheels that can be pulled along with you. Then, it transports into a fully functional mobility scooter. Due to the unique folding mechanism, the folding/unfolding process takes less than 10 seconds. If you can't manage the whole unit, it can be split into 2 sections to make storage easier. The lithium battery ensures fast charging (4 hours) which will provide a travel distance of up to 10 miles (16km). It's the little details that make this scooter; a built-in USB charging port for your devices and deck storage for personal items.
i3 Mobility Scooter
The i3 mobility scooter has been tried and tested in the USA and is now available in the UK. It has been manufactured using aircraft grade aluminium which, as you'd expect, is extremely lightweight. The scooter features a two-step folding system which lends itself well to public transport. Two batteries can be stored in the i3's compartment where you can access both with the flick of a switch – that's simplicity at its best! Additionally, it features a USB port, so you can keep your devices fully charged, and a section in the floorboard for your personal items.
Please call us on 0333 414 1881 for more information or to arrange a home demonstration. That way, you can try our lightweight scooter range in the comfort of your own home.
---