Di Blasi R30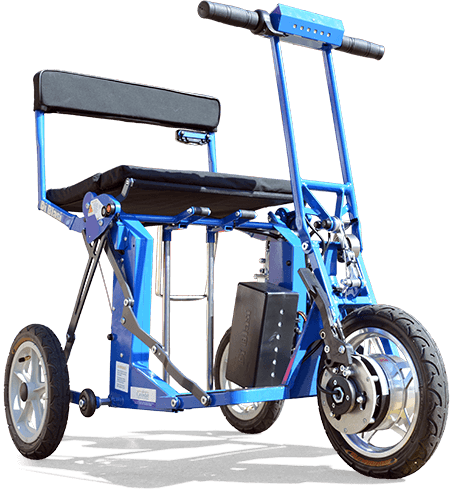 Automatically folding mobility scooter
The Di Blasi R30 is the first fully automatic folding mobility scooter. Simply press a button and watch this mobility scooter fold & unfold in seconds.
At the press of a button the scooter will fold away or unfold and be ready to go.
Once it is folded to the size of a suitcase, it can be easily stored or pulled along using the integrated handle, meaning you'll be able to take the Di Blasi anywhere.
The Di Blasi R30 has a comfortable seat and is simple to drive. Just turn it on by the main switch and control the speed by turning the twist grip.
Highly versatile
This mobility scooter has a turning radius of 86 cm (33.9") plus it has a reverse gear. The overall width is only 65 cm (25.6") meaning that it can easily be used in narrow areas and through most doorways.
Due to the R3O's large wheels, it can be used on paved and unpaved roads. It can perform on different terrains and can easily climb an incline of up to 11% and travel up to 20 km (12.4 miles).
It folds down to 65 x 37 x 48(h) cm (25.6" x 14.6" x 18.9") which means that it can be stored almost anywhere, from the boot of a car or a motor home, or your favourite out-of-the-way place.
The R30 uses a lithium battery which is super light and very reliable. The battery is very simple to maintain, thanks to the electronic control of the charge and discharge cycle.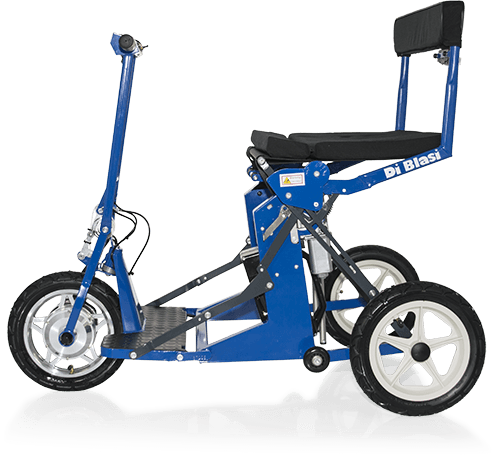 Di Blasi R30
Folds down to the size of a suitcase; can be carried on to trains, planes, cruise ships and stored in a car boot.

Specifications
Top speed
6km/h (4 mph)
Range
20km** (12 miles)
Power output
250w motor
Brakes
Electro-magnetic brake and independent parking brake
Max load
100kg (220lb)
Size (folded)
62 x 48 x 39cm
Width
62cm
Ground clearance
11cm
Weight (including battery)
24.9kg (55lbs)
Wheel size
31cm
Turning circle
86cm
Max slope
6-7%
Motor voltage
24V
Motor max-output
250W
Battery type
LiFePO4
Battery capacity
9Ah
Battery charger
2A
Battery weight
2.8kg (6.2lb)